You are looking for something simple and healthy? Timeless and delicious? Vegetable Rava Upma is just the ticket for you. Take your senses for a gastronomical joy ride!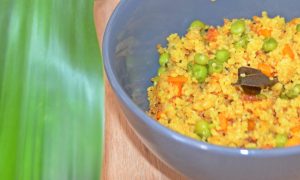 Semolina or popularly called rava in the Southern states of India, is cooked with much enthusiasm across the country. It is light on stomach, loaded with health benefits and absolutely delectable.
The tempering of mustard seeds, chillies, urad dal and curry leaves works miraculously in transforming the simple dish to a delightful treat.
Add some onions and chopped vegetables to the savory semolina upma, and you have a power-packed, as well as delicious, meal in a bowl!
Ingredients for Vegetable Rava Upma
1 cup Rava (Semolina)
2 cups Water
2 Tbsp Oil
1 medium-sized Onion (chopped)
½ cup of frozen Green Peas
1 medium Carrot, chopped
5 Curry Leaves
½ Green Chili, slitted
½ tsp split Urad Dal
½ tsp Mustard Seeds
½ tsp Salt
¼ tsp Turmeric Powder
½ inch of fresh, peeled and shredded Ginger (If you don't have, you can replace it by ¼ tsp of ginger garlic paste)
Instructions
Dry-roast semolina (rava) until the color starts changing, then keep aside.
In a large saucepan, heat the cooking oil. Add mustard seeds and wait for them to sputter. Reduce the flame, then add curry leaves, slit green chili, ginger and split urad dal.
When the dal turn golden brown, add chopped onion and fry until it becomes translucent.
Add the chopped vegetables, salt to taste, turmeric powder, mix well and sauté for 2-3 minutes.
Add 2 cups of water to the vegetable mixture and let it come to a boil.
Taste the water and check for salt.(if it is a bit salty, then it will become perfect after adding rava).
Add roasted rava to boiling water slowly while stirring continuously the mixture to avoid lumps.
Cover and cook on medium flame for 5 minutes. The rava is cooked when all the water is absorbed.
If you want the upma on tangy side, you can add lemon juice or yogurt towards the end.
And for that added crunch, spruce it up with a few cashew nuts or roasted peanuts and you're good to go.
This tasty traditional breakfast dish can be a colourful, light and nutritious lunch or dinner.
It's a 10-minutes flavorful snack. So easy to make and wonderful to experiment with!
The reason why upma is so important today
Health benefits
It Digests Slowly: Your body digests upma slowly. This is an advantage as it will keep you full for long. So, you don't need to snack on anything else.
Good For Immunity: The vitamins present in wheat rava are good for your immunity. Mainly, Vitamin B and E in it fortify your immune system.
Keeps You Energetic: Even health experts agree that upma can keep you energetic. Also, when you add enough vegetables to it, you can get some fibre content too.
Good For Kidneys: The potassium content present in wheat rava is good for your kidneys. In fact, it enhances the function of your kidneys.
Good For Your Heart: The nutrients present in wheat rava are heart healthy. Also, the selenium content in it is said to be good for your immune system.
Vegetables: Generally onions are added to upma.You can also add green peas and any other vegetables to it. This helps you get lots of vitamins and minerals in your diet. This makes upma nutritious.
Good For Bones: Minerals like magnesium, phosphorous and zinc present in wheat rava are good for your nervous system and bones too.
Good Source Of Iron: As wheat rava is a good source of iron, it can prevent anemia. Also, it enhances your blood circulation.
Nuts: You can add various types of nuts like ground nuts and cashew nuts in upma. This will make it tastier and of course, you can reap the health benefits of the nuts too.