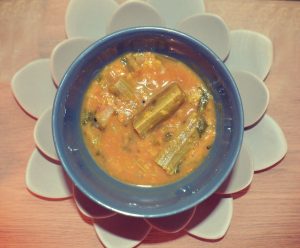 Moringa is chock-full of nutrients but we don't pay much attention to this miracle tree.
Moringa is also the botanical name (Moringa Oleifera) for drumstick. While it grows in most parts of India, it's probably more ubiquitous in Southern India.
We call the drumstick leaves as Murungai Keerai  and the drumstick tree as Murungai maram in Tamil.
The world might have put Moringa on the pedestal as the newest and greatest superfood but across South India it has been an integral part of the diet for years.
Lately, Moringa supplements and energy bars are becoming fashionable. All the excitement is understandable: Moringa leaves and seed pods are packed with protein and vitamins.
The leaves, which taste a bit peppery, like arugula, are a good source of easily digestible protein as well as vitamins A and C, calcium and iron. The seed pods are also rich in protein and high in omega-3 fatty acids.
Recently, researchers around the world have taken a renewed interest in this hardy plant and its many nutritional benefits. And they're learning that all that moringa I gorged on as a child might have been healthier than I ever realized.
Africans have also honoured it as a tree to "Never Die" and "Mother's Milk".
Sambar is a quintessential part of lunch in Tamil cuisine
Sambar is a very healthy dish, a complete meal in itself with vegetables and protein from dal.
Drumstick or murungakkai is the most favored vegetable in sambar in Tamilnadu. Drumstick is a very healthy and flavorful vegetable, often recommended in diet to increase iron. It lends a subtle yet fragrant flavour to the sambar. The juicy seeds taste like green beans but sweeter. And most often kids are encouraged to chew on the drumsticks to max out on the nutrients.
Easy & Quick Sambar Recipe, How to make Moringa/Drumstick/Murungakkai Sambar.
Ingredients for Moringa Sambar
Tuvar dal/pigeon pea lentils – 50g  pressure cooked until the dal becomes soft
Tamarind juice, extracted from a small lemon-sized ball of tamarind soaked in hot water
Drumstick- 2, chopped into finger-sized pieces
Tomato – 1, chopped
Turmeric powder – ¼ tsp
Sambar powder – 1 tsp
Salt to taste
Oil -2 tbsp
Onion – ½, sliced finely
Water – 1 cup
Water for pressure cooking the dal –  ratio 3 : 1
For the tempering
Oil – 1 tsp
Mustard seeds – ½  tsp
Fenugreek seeds (optional) – ¼ tsp
Asafoetida – a pinch
Curry leaves – few
For the garnishing
Instructions
First soak the tamarind in  warm water. After 30 minutes, squeeze off the tamarind well, then filter the tamarind juice.
Wash and chop the drumsticks.
Rinse the tuvar dal thoroughly and drain out the water.
Pressure cook the dal with water, turmeric powder and salt on medium flame for 2 to 3 whistles. The dal should become soft and mushy. Once the pressure settles down on its own, remove the lid, mash the dal to smooth using a wooden spoon and keep aside.
Heat the oil in another saucepan, then allow to cook on a medium flame the onion for 30 seconds, and the tomato until it turns into a mushy texture while stirring occasionally.
Add the choppped drumsticks, stir about 1 minute then add the sambar powder, mix well for another 1 minute. Add water and let it boil till the drumsticks are half cooked for 10 minutes.
Now add the tamarind juice and salt and cook till the drumsticks become tender for another 10 minutes.
Add the smooth boiled tuvar dal. If the consistency of sambar is thick, then add some water.
Check if there is enough salt, if needed add more.
Bring the sambar to boil. Meanwhile heat the oil in a small pan. Put the mustard seeds, once the seeds crackle turn the heat on low flame, then add fenugreek seeds, asafoetida powder and curry leaves.
Pour the whole tempering in the boiling hot sambar. Mix well and close the lid so the flavors can infuse.
Garnish with coriander leaves.
Serve your drumstick sambar with steamed rice, ghee, potato fry, small potato fry, raw banana fry, carrot curry etc. Add curd, pickle and your meal will be a complete and healthy one!
Tips
For faster cooking you can soak the lentils in water for 15 mins before cooking them.
Dont overcook the dal, as the taste of it diminishes.
Try to use tender drumsticks that contain more plump.
Pearl onions or small onions take the flavor of this drumstick sambar to another level
Health benefits
Drumstick tree botanically known as "Moringa Oleifera" offers many health benefits. Drumstick leaves are a storehouse of nutrients and antioxidants. It has approximately 90 nutrients and 46 natural antioxidants as well as anti-inflammatory compounds. It has all the essential amino acids needed for the body and is said to treat more than 300 diseases. No wonder it is called the "Miracle Tree". Moringa has been found as a potent anti-diabetic and anticancer plant and several bio active compounds with significant anti tumor activity have been discovered from Moringa. It is also a good sources of minerals like calcium, iron, copper, manganese, zinc, selenium, and magnesium. It helps boost the immune system and increases breast milk production
You can find more informations here