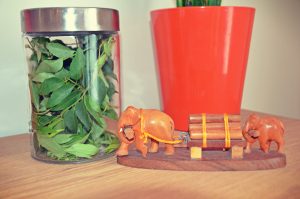 Just the aroma of curry leaves incites hunger.
Curry leaves, known as karuveppilai in tamil, are one of the common seasoning ingredient that is added to almost every dish to enhance its taste and flavour.
They are not related to curry powder, which is actually a blend of spices.
However, rather than eating this humble leaf, most of us just throw it away. But have you ever wondered if you have to throw this leaf then why did our mothers use this leaf to every food preparation?
Because besides rending a distinct flavour to the various dishes they are added to, the rich, glossy green leaves come packed with a bevy of health benefits.
Right from helping your heart to function in a better way to enlivening your hair and skin with vitality, Curry leaves have just the health boost you need.
Simple way to Store and Preserve fresh Curry Leaves
Wash the leaves in running water and let them drain in a colander for 30 mins.
Take out the sprigs from the stem but don't remove the leaves!
Put them on a large kitchen towel and gently pat them dry.
Take a clean dry glass jar and store the curry leaf stalks in it.
Keep the lid closed and store in the fridge.
From curing diabetes to digestive disorders, Curry leaves do more than just seasoning your food.
Thanks to being :
a source of proteins, amino acids, antioxidants, alkaloids and anti–inflammatory benefits.
packed with fibre, calcium, phosphorous, iron, vitamins C, A, B and E.Â.
Health Benefits
Diabetes: eating 10 fresh fully grown curry leaves every morning for three consecutive months will help keep hereditary diabetes at bay. It also cures diabetes that's caused due to obesity, as the leaves have weight-reducing properties.
Kidney Disorders: The root of the plant is used for medicinal purposes. The juice of these leaves can be consumed to relieve kidney pain.
Premature Greying: Moderate intake of curry leaves helps prevent premature greying of the hair. The leaves can also be applied on the scalp and hair in the form of a paste.
Strengthening hair roots: Dry curry leaf powder mixed in oil can be applied to your hair with a quick massage. Doing these on a regular basis can improve hair growth and cure hairfall as well.
Anti-bacterial properties: Curry leaves helps fight against skin infections.
Eye Disorders: Curry leaf is a good source of vitamin A and hence provides protection against developing cataract.Prevent early development of cataract by using the fresh juice from curry leaves as an eye drop.
Digestive Disorders: Treat morning sickness and nausea by consuming fresh juice of curry leaves with lime juice and sugar. They are also useful in treating diarrhea, , gastrointestinal problems dysentery and as indigestion, excessive acid secretion, peptic ulcers and piles.
Cholesterol balance: Curry leaves are also known to reduce bad LDL cholesterol level. They protect one from heart disease—increasing the "good" cholesterol (HDL).
Anaemia: They are a rich source of iron and folic acid (which helps the body absorb iron) and thus counter anaemia.
Liver Disorders: They are known to help protect the liver. Preventing it from damage, and stimulating it to work better.
They are also believed to have cancer fighting properties.
I have rarely come across an ingredient that seems so miraculous. Which could also be why that in the absence of tulasi (basil) leaves, curry leaves are in fact used in ritualistic worship.